Your needs as a homeowner change over time, and you need the right home to fit those needs. Accordingly, it's highly likely that at some point in the future, you will experience another moving day. While moving can be challenging, the following moving tips will make it easier. If you are remaining in your current area,
your Windermere agent
can continue to be a valuable resource on schools, utilities, transportation, recreational opportunities, and more.
If you are moving out of the area, your agent can help you with a referral to another reputable agent in your new community. Many agents also have relationships with actual estate-related service companies in their area whom they can call upon for information regarding title,
escrow
,
mortgages
,
temporary housing while you sell your home
, and moving services. They can also help guide you in your search as you learn more about new communities and relocation services.
Helpful Moving Tips
Once you have
decided to sell your home
, it's time to gather information and get organized. Begin by creating a "moving" file to keep track of your estimates, receipts, and other pertinent information. If you're moving for a job, some expenses may be deductible, so you'll want the paperwork when tax time comes.
If you are moving out of the area, start researching your new community and ask your agent for help in finding a referral agent. You'll also want to determine whether you want to
rent first or buy immediately
. Your new agent should be able to help you with your decision. Once you know where you're going, you're also ready to get estimates from moving companies.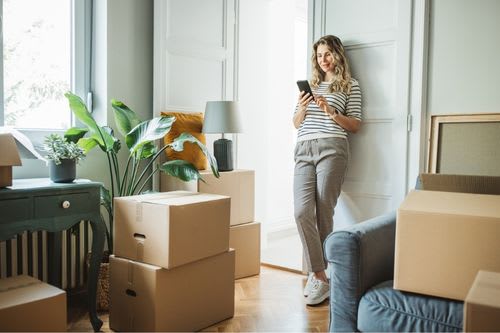 Moving to Your New Home
After you have chosen a moving date and either hired a moving company or reserved a rental truck, it's time to wrap things up in your old neighborhood and start establishing relationships where your new home is located. This is particularly important if you are moving to a new town or city. You may want to ask your current doctors, dentists, etc. if they have any referrals for care providers in your new location. Check their recommendations on your insurance company's online provider search list. Once you arrive, you may also want to ask new coworkers, friends, or the school nurse for their recommendations.
Contact your children's school and or daycare and arrange for their records to be transferred. Call your insurance agent about
homeowners insurance coverage
. Remember to contact utility companies to disconnect, transfer or end service in your current home and turn on service in your new home.
You'll want to file a change of address form with the U.S. Postal Service, either online or at your local office. If you don't know your new address, have them hold your mail at the post office in your new locale. Don't forget to cancel or transfer magazine and newspaper subscriptions as well.
Contact them about ending or transferring your membership if you belong to a health club or other association. Some clubs require written notice before cancellation. Finally, contact your bank or credit union to transfer or close accounts; if you have a safe-deposit box, don't forget to clean it out before you leave.
Preparing for Moving Day
With moving days in sight, it's time to get organized. Here are a few moving tips to check off your list before you start packing:
Moving Tips: Packing Strategies
If you are doing your packing, start collecting boxes and or buy them from your movers. It may take a few days to do your packing, so be sure to pack non-essential items first and label them carefully. If you have any valuables, it's recommended that you take them with you as opposed to packing them. You risk the chance of losing those items if they're packed away in boxes. It's also smart to take along a box of essentials, including items such as toilet paper, paper towels, tape, soap, scissors, pens, paper, and your toiletries. That way you won't have to track these items down once you've arrived in your new home.
For more information on how to make your move easier, visit our Moving Checklist here: